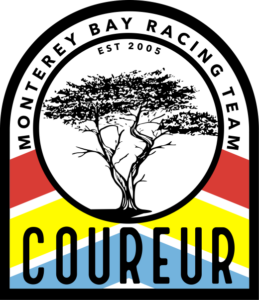 For Immediate Release
Publicity Contact:
Tom McCullough, [email protected]
One-of-a-kind, dynamic, challenging, artful, and utterly exciting racing experience.
When: July 23, 2023
Where: 625 Ortiz St. Sand City, CA, warehouse district with a community of artists and craftsmen
The race is organized and run by the Coureur Monterey Bay Racing Team sponsored by The Don Chapin Company with support from the City of Sand City. It raises funds for Ohana, Montage Health's mental health program for youth in Monterey County.
In its second year as a creative cycling celebration, the Sand City Criterium will be a marquee event on the national racing calendar. The confluence of its artistic arena, creative community, technical terrain, and joyous July date – gilded with a substantive professional prize purse – is sure to attract a legion of professional and amateur riders alike who will revel in racing around the challenging corners. True racers will want to come to "paint the town" and show off their flair for "The Art of Cornering."
Short, at just over 1-kilometer, the racecourse creatively features 10 astonishing corners and Hickory Hill, making it incredibly dramatic and dynamic. The sinuous loop in and around the Sand City art district carves past dozens of art murals, and boisterous fans will give riders a unique chance to show off their talents.
The Criterium will attract over 500 riders and hundreds of spectators to the Monterey Peninsula and feature 18 different races for riders of all categories and ages: Junior races, Women's races, Men's races, and two professional races (men's and women's). The total potential purse for all of the eligible races exceeds $16,000. And, there is a free Kids Race for those under 9. "The Art of Cornering Expo" will feature the bike industry and local vendors showing off their wares outside Post No Bills Craft Beer House at the start /finish.
The critical sponsors for our race include:
The Don Chapin Co. (Don Chapin III is a racer and on the Board of the Monterey Bay Racing Team)
Montage Health – Criterium title sponsor
Lindley Zerbe DDS – Criterium and Team sponsor
Taylor Farms – Criterium and Team sponsor
Bianchi Bikes – Criterium and Team sponsor – recently relocated their North American HQ to Ryan Ranch
Work Horse Bicycles – Criterium and Team sponsor
Post No Bills – Criterium and Team sponsor
East Village Coffee – Criterium and Team sponsor
Chris Shake Enterprises – Criterium and Team sponsor
Chris Burnham Coaching – Criterium and Team sponsor
Cypress Coast Automotive Group – Criterium and Team sponsor
Silverie Properties – Criterium sponsor
Terun Pizzeria (Palo Alto) – Criterium sponsor
CADEX – Criterium sponsor
Tifosi – Criterium and Team sponsor
Bonk Breaker® / SaltStick ® / Jojé ® – Criterium and Team sponsor
Shimano – Criterium sponsor
Fluid Sports Nutrition – Criterium and Team sponsor
Here is a link to the YouTube video featuring an interview with Ryan Gorman, who rides for Mike's Bikes and won the Men's Pro race last year. The video's title is Surviving NorCal's TOUGHEST Criterium. As you can tell from the video, criterium racing is fast, a little dangerous, and spectator friendly.
Registration is open until July 20th here.
Volunteers are needed to ensure a safe and enjoyable experience for racers and spectators alike. Please consider signing up here.
For more information and interview setup, please contact: Tom McCullough at [email protected] or 408-375-3011